Privacy Coin Weekly Newsletter #1
Hello Privacy Community, Welcome to the first Privacy Coin Weekly Community Newsletter. First and foremost I would like to thank the whole $Priv community for their warm support to $Privacy Project. its been my honor to serve such as lively and active community.
Developer Team are working round the clock together with the Moderation & Support team to further improve the project and to provide a safe and anonymous currency to the whole crypto currency market.
3rd Week Airdrop has been very sucessfull with 855 total participants that share the airdrop pot of 550,000 $PRIV Coins, Each participants receive 637 PRIV coins valued at $50 at today's market price. For transparency $PRIV team provides spreadsheets of all particpants - CLICK HERE TO CHECK
Next Week 500,000 $PRIV Coins are up for grab, so stay tune in the official discord channel to get the latest news and updates about $PRIV.
One Big news for the week, Privacy Coin succesfully won the Crytal Dash Listing Competition. This shows the power of $Priv Community working together as a Team.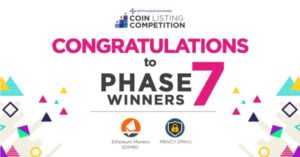 Cryptal Dash just finish their ICO and Soon they will open to public and it will provide more liquidity and volume for $PRIV. CLICK HERE TO READ MORE ABOUT THE LISTING COMPETITION
$PRIV is available for buy/sell and trading on CREX24 - START TRADING
Help $PRIV get listed on NEXT.EXCHANGE - CLICK HERE TO VOTE
Help $PRIV get listed on SHARDAX - CLICK HERE TO ADD YOUR COMMENT
$PRIV is succesfully listed on livecoinwatch - VISIT LIVECOINWATCH , Livecoinwatch is a good alternative to Coinmarketcap and provide much more detailed information for your favorite cryptocurrency.
$PRIV Discord Community now have 6,498 Members and an average of 500 people are online at a time.
On Behalf of the whole $PRIV Staff team we would like to thank everyone who make this possible. Rest assured that we will provide top notch service for the whole community.
That's all for the week and see you again for tomorrow's exciting new week for $PRIV, Don't forget to Like and Retweet! Thank your for Reading.
Disclaimer
This News Entry is a personal opinion  and not directly from $PRIV developer team this is a community initiative news entry, for official news and updates check out #announcement channel via $PRIV Discord.