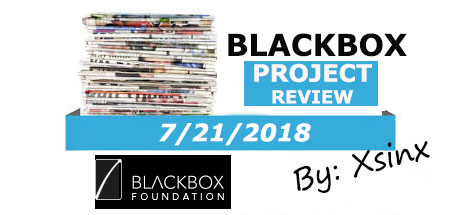 Blackbox Token Project Review
Hello Everyone! Welcome to another project review by bitnewportal and this time we will talk about Blackbox token project its basic project overview and real life usage of their product. We will also feature some important highlights of the project.
First off Blackbox Token is a ERC20 Ethereum Tokens so you will be needing a ERC20 compatible Ethereum Wallet (eg. Myetherwallet). Now going back to the project review, first we will discuss the basic project overview we will not go in deeper technical details since not everyone of us our techy geeks so we will disuss as simple as possible for easy understanding and easy to follow.
The basic, BlackBox Token project are aiming to launch Operating System as their main product line its basically called BlackBox OS. Their Products are mainly aimed for Bussiness and Companies that still using native software infrastructure to manage their day to day operation and activities.
By using BlackBox OS, Bussiness and different blockchain projects can simplify their management and operation by utilizing the blockchain technolgy that is native feature of BlackBox Operating System.
Currently Blackbox Token Project is on their Pre-Sale Stage that will run in the next 3 days, During this pre-sale round a guaranteed 50% bonus is available for all pre-sale investors. Based on their timeline they are aiming to complete the pre-sale by August 3, 2018 and their mainsale are expected to kick off by October 2018.
While waiting for the mainsale you should take a deeplook on their whitepaper to further understand the project technical details. (READ BLACKBOX WHITEPAPER)
Blackbox team are composed of highly skilled professional that is expert in their choosen fields, You can find more information about the team by following THIS LINK
Blackbox token project offers both Bounty and Airdrop Opportunity to increase community awareness and to help them with the marketing and word of mouth campaign. If you are looking for an attractive bounty campaign you should take a look at BlackBox Bounty Thread (JOIN BLACKBOX BOUNTY) and for those people that is looking for airdrop opportunity Blackbox is also offering one by simply following few simple steps to qualify for the airdrop (JOIN BLACKBOX AIRDROP)
Important Project Links
That's all about Blackbox Token Project Review and i hope you find this useful in understanding the basic overview of the project. If you are looking for technical answer for your technical question please visit their telegram channel and Blackbox token staff are always available to handle all community question.
Find this useful? Don't forget to Retweet, Share and Like in different social media channels. 
Disclaimer
This is not a investment advice and should not be use as a basis for your investment decision, Always excercise your own due diligence. Thank you for Reading
BTCtalk (xsinx) UID 717573
ETH ADDRESS: 0xBb8A5a3D820E8800Ac15F73F536667e995E04529