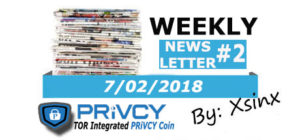 Privacy Coin Weekly Newsletter #1
Hello to all PRiVCY Community Members, Welcome to the 2nd weekly community newsletter for PRiVCY, First of all i would like to thank everyone who share and re-tweet the 1st PRiV Community Newsletter, For the very same reason i will pursue on writting on daily updates for PRiV from market watch, analysis and simple updates that will keep up everyone entertain and updated on the latest happenings with PRiV Community, In this way no one will be left behind during airdrop.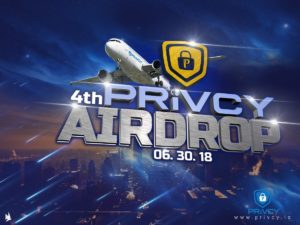 The 4th Weekly PRiV airdrop had a record high of 997 Participants an increase of 142 users from the previous airdrop, Each Airdrop participants get 495.90 PRiV valued at $52 at today current price.
For Transparency purposes PRiV Team provides the list of all participants ( LINK )
Watchout for next saturday for the 5th round of PRiV Airdrop, A total of 450,000 coins will be shared by all participants.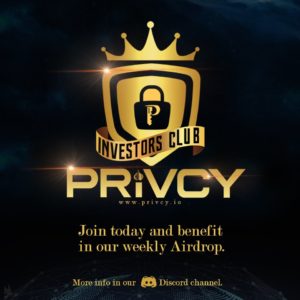 Last week PRiV Dev Team Announce an exciting feature that will rewards all early investors of PRiV, Its called PRiVCY Investors Club. By Joining the club you will reap greater benefits.
During airdrop All Investors club members will have a multiplier effect on their airdrop everyweek.
10 000+ PRiV - "10k Club" membership & 1.10x AD factor
25 000+ PRiV - "25k Club" membership & 1.25x AD factor
50 000+ PRiV - "50k Club" membership & 1.50x AD factor
100 000+ PRiV - "100k Club" membership & 2.00x AD factor
Aside from the mulitplier during airdrop, an special colored usernames will be awarded to all club members making your name standout from the rest on the discord channel. More details can be regarding investors club are provided on the official Discord Channel.
$PRIV is available for buy/sell and trading on CREX24 – START TRADING
Help $PRIV get listed on NEXT.EXCHANGE – CLICK HERE TO VOTE
Help $PRIV get listed on SHARDAX – CLICK HERE TO ADD YOUR COMMENT
$PRIV is succesfully listed on livecoinwatch – VISIT LIVECOINWATCH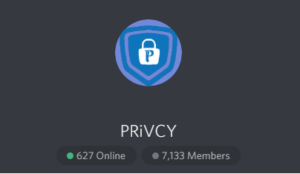 PRiVCY Community is growing at a rapid rate,  At this time PRiV Discord now have 7,133 Members, An increase of 635 members from last week. Currently 600+ Members are online on a average. This is the proof of a growing community and this is the primary goal of PRiVCY a mass adoption of PRiV as a CryptoCurrency.
That's all for the week and see you again for tomorrow's exciting new week for $PRIV, Don't forget to Like and Retweet! Thank your for Reading.
Disclaimer
This News Entry is a personal opinion  and not directly from $PRIV developer team this is a community initiative news entry, for official news and updates check out #announcement channel via $PRIV Discord.