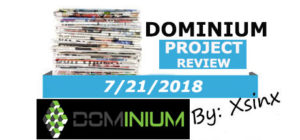 Dominium Token Project Review
Hello Everyone! Welcome to another project review by bitnewportal and this time we will talk about Dominium Token project its basic project overview and real life usage of their product. We will also feature some important highlights of the project.
First off Dominium Token is a Token under ARDOR Platform so you need to create an account via their website to undergo and complete KYC procedure . Now going back to the project review, first we will discuss the basic project overview we will not go in deeper technical details since not everyone of us are techy geeks so we will disuss as simple as possible for easy understanding and easy to follow.
Starting off the basic overview of the project, Dominium are aiming to launch a property listing platform with also a platform for both financing and property management system. You must be asking what are uses of such platform for a normal joe and jane like us? For starter if you search the internet thousands of property listing platform is available but what makes dominium different from the usual listing platform, First its a decentralized platfrom where no central authority on the platform by utlizing blockchain technology.
If you are looking for a place to trade assets, Rents your properties, Sell your properties you can take advantage of Dominium platfrom by using their blockchain technology to facilitate trade and sales while making it more secured and simplified. Using Dominium Platfrom Cross Border Transaction, deals and agreements can be facilitated thus making transaction more personal even the 2 parties are located in different continents.
Currently Dominium are scheduled to run their ITO or Token sale this coming September 3, 2018 and there's still more time to study and research about the project. While waiting try to read their official whitepaper (READ DOMINIUM WHITEPAPER) in order to for you to grasp the much more detailed information about the Dominium Project.
Dominium team are composed of highly skilled professional that is expert in their choosen fields, You can find more information about the team by following THIS LINK
If you are aiming to join their bounty campaign, Keep in mind that Dominium are requiring all participants of the bounty program to undergo and finsih KYC procedure. (CLICK HERE TO JOIN DOMINIUM BOUNTY)
Dominium are also running an aridrop campaign by signup in their platform and complete KYC requirements you can get 25 DOM token and another 25 DOM token for every referral that will signup under your referral link.
Important Project Links
That's all about Dominium Token Project Review and i hope you find this useful in understanding the basic overview of the project. If you are looking for technical answer for your technical question please visit their telegram channel and Dominium token staff are always available to handle all project related question from the community.
Find this useful? Don't forget to Retweet, Share and Like in different social media channels. 
Disclaimer
This is not a investment advice and should not be use as a basis for your investment decision, Always excercise your own due diligence. Thank you for Reading
BTCtalk (xsinx) UID 717573
ETH ADDRESS: 0xBb8A5a3D820E8800Ac15F73F536667e995E04529