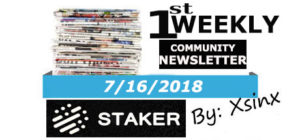 Staker Token 1st Weekly Community Newsletter
Hello to all Staker Community Member's! Welcome to the very first Staker Community Newsletter. I am @xsinx on staker official discord and one of your friendly community moderator. This newsletter is a recap of what happened on Staker from the past week, i will summarize the development and latest updates in one article so everyone will have a better picture on what is happening with the whole Staker Community.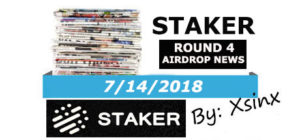 Last July 14, 2018 the 4th Staker Airdrop has been successfully completed with 203 eligible airdrop participants that shared to total airdrop pot of 30,000 STR Tokens. In this round the airdrop has been calculated based on Bitcointalk Rank. To know more information about the Staker Airdrop #4 (Read: STAKER Round 4 Airdrop News & Updates).
Staker Project Whales Club is working well to attract more investors and more participants in the airdrop project and also increase the overall daily trading volume Staker on Crex24 Exchange. Currently 2 Members has been added on the 2k Whales Club Membership and many people are also eyeing for the said Membership. To Know more about the Whales Club Membersship (Read: Whales Club Info).
Development and Listing Updates
Currently the developer shown a snapshot or demo screenshot of the soon to be launch Dice Social Games which is the main product line of STAKER Project, We still don't have any info regarding the features and specially the estimated launch date of the project but with this simple development update it boost community morale and will further help the growth of the project.
More Listing has been announce by the Staker Development Team, Not only Exchange platform but also listing on the different Crypto Tracking Application that will be useful to track and watch the current market movement of Staker Token.
First Staker Token has been successfully added on COINLIB a professional and userfriendly cryptolisting platform that offer's basic overview of the coin spec's from supply upto the current market price. Visit Staker COINLIB Page
Aside from COINLIB you can also look for Staker Token on your BLOCKFOLIO apps, Now you can see the coin market performance directly from your smart phone.
Soon Staker will be available on many crypto listing platform, For now let us use what staker has and soon more development and more listing will be available for our daily use.
Currently Staker Token are available on CREX24, FORKDELTA and TOKENJAR.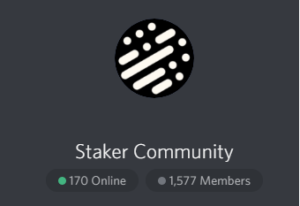 Staker Community is growing everyday, Since the listing of StakerToken on Crex24 more and more people are joining Staker airdrop project. As of this time Staker Official Discord Community now have 1,577 Members with an average of 150 Members online at a given time. Soon we can track the growth of the community with the weekly newsletter.
Everyone is welcome to join STAKER COMMUNITY, if you want to Join the Airdrop Simply follow this step by step instructions (READ: Staker Token How to Join the Airdrop).
That's all for this week and stay tuned for our daily news about STAKER project and Don't Forget to Re-Tweet, Like and share the article in different Social Media Channel a simple task but will have a great impact on STAKER Crypto Awareness Campaign. 
THANK YOU FOR READING