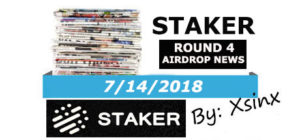 STAKER Round 4 Airdrop News & Updates
Hello Everyone! Welcome to another article for Staker Project, Today we have been entrusted to announce the airdrop verification results for Round 4 Staker Airdrop.
Before we start we would like to thank all members of staker airdrop project community that offer their never ending support for the project.
Moving on the the airdrop news, In this round a total of 30,000 Staker Tokens will be shared by a total of 203 Eligible Airdrop Participants. In this round we calculate stakes based on Bitcointalk Rank and rewards them as follows
Jr. Member = 1 Stake
Member = 2 Stakes
F. Member = 4 Stakes
Sr. Member = 6 Stakes
Hero & Legendary Member = 8 Stakes
For this round 401.8 Stakes has been recorded from 203 participants and each stake are awarded with 74.664 STR Tokens. A spreadsheet is available for transparency and for public viewing of all accepted particpants (LINK: Sheet of all Accepted Participants).
All Airdrop Participants receive 2x stakes for wearing staker signature and by completing the required number of post. Also we have 1 user from the WHALES CLUB that won the 2.5x Airdrop Multiplier for having the highest trading volume for the week, All in all he receive 10.8 stakes from the total airdrop pot.
Stay Tune for tomorrow as we have some special announcement for the next coming airdrop week. I would like to personally congratulate all particpants who are accepted for this round and for all others who missed the airdrop there are still 12 more rounds left.
One last thing before i end this article, tomorrow expect the very first STAKER WEEKLY NEWSLETTER that will summarized all the things that happen in our Staker community in the past days. That's all and Thank you for Reading!
Don't Forget to Re-Tweet, Like and share the article in different Social Media Channel a simple task but will have a great impact on STAKER Crypto Awareness Campaign.