Hello everyone! Warm welcome to all new new airdrop participants of staker token project, You made the right choice in joining this wonderfull airdrop project and this is the start of your fruitful journey with staker token airdrop project.
Are you a new airdrop members? Catchup with all the news about Staker Token by reading the previous newsletter to know how the community improves everyweek
Many things happen this past week with staker token community, All airdrop participants now are actively participating in different discussion, contest and giveaways held in the official staker discord channel. A good sign that the community is growing and expanding since the announcement of 40 rounds airdrop extension.
Token Swap has been successful and everyone receive their swap tokens without lifting a finger and spending eth gas for the swap transaction, Everything has been shouldered by the dev team. If you're still hesistant in joining this airdrop project you are missing the biggest airdrop opportunity of the year.
Staker Token is currency being traded on Crex24 and the dev team are aiming for more exchange listing in the future. If you want to trade/Buy/sell Staker Tokens Crex24 is a safe exchange platform.
Currently Staker Token are available on CREX24, FORKDELTA and TOKENJAR.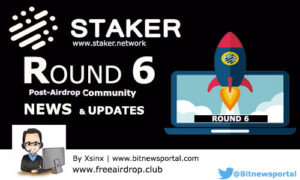 Congratulation to all qualified participants for Airdrop round #6, For all others that didn't make it don't lose hope there are still 34 more rounds available.
If you want to know more about the details for Round6 Airdrop ( READ HERE )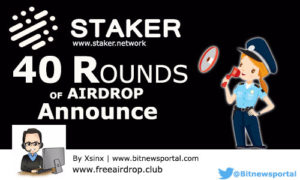 For all new comers of staker token airdrop, Staker token has a total of 40 rounds airdrop and everyweek is a new airdrop week.
To know more about the details on this new airdrop schedule announcement (READ HERE)
Did you know STAKER TOKEN is available on COINLIB?Visit Staker COINLIB Page
Staker Community is Growing Everyweek with 2,273 Discord Members recorded as of today and it was 450 Members higher compare to last week.
With almost 180 users online at the average everyday its truly a great achievement for STAKER Community. Remember this is a team effort and everyone deserves some applause.
That's all for this week and stay tuned for our daily news about STAKER project and Don't Forget to Re-Tweet, Like and share the article in different Social Media Channel a simple task but will have a great impact on STAKER Crypto Awareness Campaign. 
THANK YOU FOR READING