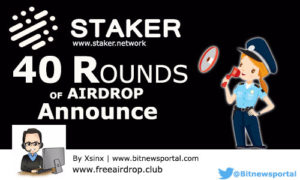 Staker Token 40 Rounds of Airdrop Announce
Hello Everyone! Its friday again and everyone loves friday. Today we i will bring you some goodnews regarding staker token project and this is the most important part of staker token project history.
Staker Development Team announce that the airdrop will be increase from round 16 to 40 rounds of airdrop and with this changes and addition they created a timeline for staker airdrop. They have formed a 3 types of airdrop that is truly rewarding for all airdrop participants.
Normal Airdrop - Well this is a free airdrop for everyone, when i say free you can join and claim your free airdrop weekly if you follow and complete all the requirements. The good thing about this is they will accept newbie in the airdrop for as long as they follow the newbie airdrop requirements. Airdrop distribution are based on Bitcointalk Rank (Stake Based Distribution)
Special Hodlers Airdrop - Well we have seen how the special hodlers airdrop works and its a truly rewarding experience for investors and whales club members. Basically you will receive an airdrop depending on your STR Holdings, The more you hold the more STR tokens you will receive.
True Holders Airdrop - Since this is a free airdrop and no one is stopping anyone to dump or sell their tokens in the open market. That's why this special airdrop is made in order to reward those users who keeps holdings their airdrop STR tokens. To qualify for True Hodlers Airdrop you need to hold atleast 50% of the total airdrop you receive. During the True Holders Airdrop, All Airdrop participants will recieve equal airdrop regardless of bitcointalk rank.
Timeline
Round 6 to 9 = Normal Airdrop
Round 10 = Special Hodlers Airdrop
Round 11 = True Hodlers Airdrop
Round 12 to 14 = Normal Airdrop
Round 15 = Special Hodlers Airdrop
Round 16 = True Hodlers Airdrop
Round 17 to 20 = Normal Airdrop
Round 21 to 40 = Airdrop Depends on your STR Holdings - Basically this will be the biggest game changer for Staker Token Project. A rewarding experience for HODLERS, INVESTORS, and PIONEER Members who believe in the project during the early days.
If you want to get more tokens wear STAKER Token Signature and receive x2 Stakes on your airdrop. A special not has been left by the dev team, For Special Hodlers Airdrop X2 is only applicable on the first 1000 STR you hold to prevent imbalance with the airdrop distributions Since they already giving Extra Multiplier in the whales club membership.
For round 21 to 40, Whales club multiplier will be remove but your special colored username in discord channel will remain. This rules was to make everything fair for all new investors coming in from round 21 onwards. In this phase the MORE YOUR HODL the MORE YOU receive. So starting now keep collecting and keep hoarding STR tokens.
Help STAKER Token get listed on FATBTC
Follow FAT BTC Twitter Account
Like & Retweet FAT BTC Tweet
Comment Staker twitter handle @StakerToken and add your best comment for staker token project.
Always remember that STR Token is still a brandnew community project and we can expect more community development and news along the way. The whole staker Development team are working very hard to give us a great opportunity and to make a difference in the whole crypto currency market.
That's all for this day and stay tuned for our daily news about STAKER project and Don't Forget to Re-Tweet, Like and share the article in different Social Media Channel a simple task but will have a great impact on STAKER Crypto Awareness Campaign.