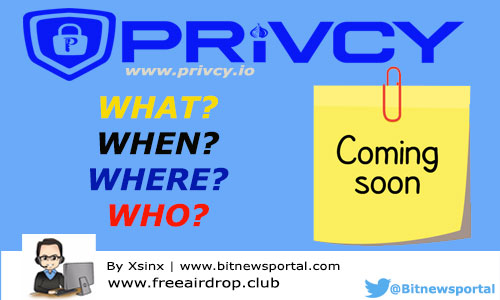 Hello Everyone! Happy Monday to all of you and today i will skipped the newsletter publication for some important thing that i really need to publish. 6th Weekly Community Newsletter will be publish tomorrow.
Last night i overheard some converstion about a special "THING" about PRiVCY and based on what i see and heard it will be a gamechanger and unique thing in the cryptocurrency world. Even the Moderator Team and Support Team are clueless on this "THING" but i am not sure if this really a "THING" or it could be "ANYTHING"
The main question now that running on my mind is WHAT, WHERE, WHEN and WHO. I am still clueless on WHAT it is, WHERE it is, WHEN it is and WHO it is.
All i know that this new THING is COMING SOON and Official Announcement will be made once available.
This is a teaser announcement and i could be assisinated for leaking this information.
This is not a news article to pump the price, but this is a good news to buy more while PRiV is still cheap.
PRiVCY is aiming to get listed on coinmarketcap and as a community members of PRiVCY, We should do our part to help the PRiVCY dev team to make it happen. Help PRiVCY Community get seen by simply upvoting the PRiVCY Reddit post and adding your best comment about PRiVCY
Keep Voting for PRiVCY on both Sonox and SHARDAX show the community power of PRiVCY Coin. You can vote once every 24 hours
Don't Forget to Re-Tweet, Like and share the article in different Social Media Channel a simple task but will have a great impact on PRiVCY Crypto Awareness Campaign. 
Disclaimer
This News Entry is a personal opinion  and not directly from $PRIV developer team this is a community initiative news entry, for official news and updates check out #announcement channel via $PRIV Discord.