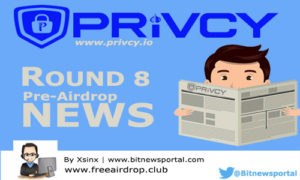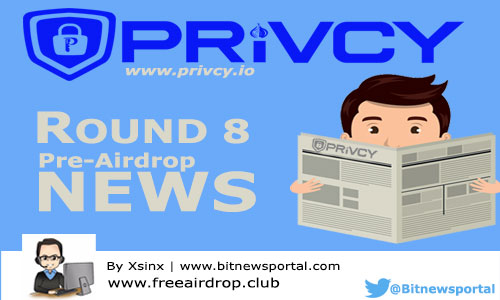 PRiVCY Round 8 Pre-Airdrop Community News
Hello Everyone! Welcome to another pre-airdrop news for PRiVCY Coin Project, In less than 30 hours we will witness and experience another weekly airdrop for PRiVCY Coin.
The Clock is ticking before the final airdrop participants checking at approximately 3 hours from press time the airdrop registration will close and all new and old members will undergo Bot Checking and Manual Checking process.
Make sure you complete all the requirements for round 8, There are no specific rules changes for this round and this round you need to hold 70% of the total airdrop you receive to qualify for hodlers airdrop. If not, You will only share on a smaller pot together with the new airdrop participants.
Last airdrop round of PRiVCY Coin recorded 906 airdrop participants and we can expect this number to decrease due to some weak hands leaving the project. With this all hodlers can expect higher airdrop amount from the previous week due to lesser participants for this round.
Yesterday, WebWallet has been announce and so far no major bugs has been encountered by the users, This is a good addition for users that wanting to control their funds even they are away from their home. Want to know more about the wallet? (READ: WebWallet Launch)
Dont forget to help PRiVCY Coin get listed on Shardax, a simple task that will benefit not only you but the whole community. It only takes 3 minutes to vote and i am hoping you will take this seriously. VOTE FOR PRIVCY @ SHARDAX
Help PRiVCY Coin with CMC Listing, by simply Upvoting this reddit post and leaving a personalized comment for PRiVCY. This will help the project get seen by the CMC staff. Lets us show the power of PRiVCY Community. UPVOTE REDDIT POST
That's all for today, See You again tomorrow for another exciting Community News About PRiVCY Community. Don't Forget to Re-Tweet, Like and share the article in different Social Media Channel a simple task but will have a great impact on PRiVCY Crypto Awareness Campaign. 
Disclaimer
This News Entry is a personal opinion  and not directly from $PRIV developer team this is a community initiative news entry, for official news and updates check out #announcement channel via $PRIV Discord.