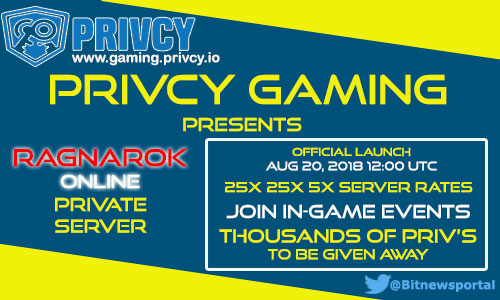 PRiVCY Coin launch Ragnarok Online private server
UPVOTE on STEEMIT | CLAP on MEDIUM | Join PRiVCY Airdrop
Hello Everyone! I know its been almost 1 week since i posted an update about any project. I have been busy with some offline stuffs and i don't have much online time this past few days. But now i am back in full again and im back publishing the usual things once again!
PRiVCY Coin, Never fails to amaze its community. With its growing userbase they are also opening new doors for different community. This time they launch a ragnarok online private server.
JOIN AND REGISTER YOUR PRIVCY RAGNAROK ACCOUNT
Ragnarok Online is a MMORPG that is easy to learn and play type of game. its not your usual modern day game where you just point and click and the charcter will move on its own. This game is the father of all MMORPG and upto now this game is being played by people on all ages.
PRiVCY Coin launch this gaming server in order to create a userbase among gaming community and to create an additional market for PRiVCY Coins. As a player you can battle with the other players for glory and supremacy. This is a highly addictive game and very competitive type of gameplay.
If you are a airdrop participants you are lucky to be part of the crypto currency community! PRiVCY Coins is open to all suggestion and they take seriously! So whenever they launch a new product support it and help them promote it.
This is just the first step towards gaining a foothold on the gaming community. Dota 2 and soon pointblank via garena platform will be added as one of the supported games on their PRiVCY weekly gaming tournament. don't forget keep joining this type of games and collect as much as PRiV as possible.
Keep Voting for PRiVCY on both Sonox show the community power of PRiVCY Coin. You can vote once every 24 hours
Don't Forget to Re-Tweet, Like and share the article in different Social Media Channel a simple task but will have a great impact on PRiVCY Crypto Awareness Campaign. 
Disclaimer
This News Entry is a personal opinion  and not directly from $PRIV developer team this is a community initiative news entry, for official news and updates check out #announcement channel via $PRIV Discord.