Hello everyone! After my sunday break here i am again today to bring some fresh project in the airdrop market, we already introduce it last week but due to time constraints i havent discuss it deeply and share my thoughts about the project.
So moving on with this new airdrop project called MetaCash, Its a brandnew cryptocurrency that is aiming to build a community by doing a series of airdrops and mini coin sale that will enable them to list on a reputable exchange. We will not go and discuss about the coin sale since we are more focus on the airdrop opportunity that is provided by MetaCash Coin project.
For a start, Metacash coin is a Hybrid Scrypt Coin that both use POW/POS algo. But mining Metacash via POW mining is already over and now the coin is in 100% POS mode with 120% p.a stake rewards. What does it mean? it means all new coins that will be only minted will via POS and the yearly interest is set at fix 120% p.a
Minting new coin is easy, Just HODL your Meta Coin on your wallet and unlock it for staking and that's it. Simple right? The same rules apply just like in any other POS Coin, the more coins you hodl on your wallet the more staking power and the more staking rewards you will get.
There 3 ways to get META Coins, First is the airdrop that will be discuss on the later part of this article, Secondly via Bounty and lastly via they Coin Sale. If you don't have time or energy to join the bounty you can buy it via their COIN sale, but if you don't have any money to spare join the airdrop and support the communtiy.
Moving on to the airdrop. The total Airdrop supply is 840,000 META and Every monday 70,000 META will be airdrop to all qualified airdrop participants. The airdops will run for 12 weeks or 12 consecutive mondays.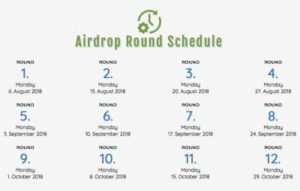 Familiarized your self with the date and always visit the MetaCash Official Discord Channel to check if theres an updated rules or important announcement regarding the airdrop.
I will not go beyond this information since the basic information about METACash project has already been publish on my Project Introduction Article for MetaCash (READ NOW)
Thank you for reading! Don't Forget to Re-Tweet, Like and share the article in different Social Media Channel.
CLAP THIS ARTICLE ON MEDIUM
Disclaimer
Its a free airdrop and investment is not required, this is a voluntary news entry if you have any question or problem with the project contact them directly