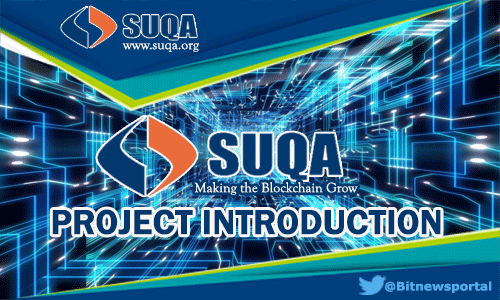 SUQA Cryptocurrency Project Introductions
Hello Good Morning Everyone! Welcome again to Bitnewsportal Blog, The Home of the best projects and airdrop opportunity. Today we will feature another cryptocurrency project that been successfully working since September 2018.
Project Overview
SUQA is a decentalize cryptocurrency project that aimed to be one of the cryptocurrency of choice for crypto community! SUQA is developed and using their very own POW algorithm named X22i that is proven to be ASIC, FPGA and Quantum Computer Resistant. They are the first Cryptocurrency that uses the said Proof of Work Algo.
Project Features
Unlike other cryptocurrency in the Market Today, SUQA is a non-ico, non-premined cryptocurrency project which is highly rare in today's cryptocurrency environment.
SUQA Wallet offers unique features and that enable its users to grow people's SUQA Holdings Using their TimeLock Deposit Features. Basically you can put your SUQA Balance on Timelock mode or Term Deposit using the wallet for upto 4 weeks and get upto 5% Apr. The good thing about this features is the Time Lock is running even the wallet is offline or not running. If you think Proof Of Stake is the Greenier Version of Increasing your balance or Mining More Coins. I bet SUQA Timelock features will be an attractive to both Whales investors and seasonal cryptocurrency users.
A Timelock Calculator is available on their website to check and determined the estimated earnings on their Timelock Deposit.
SUQA is created as an open source project and everyone can check and review its code that is available on their Github Page 
Technical Details
We will not go deeper into the technical aspect of SUQA coin but we will only feature the best selling point and top features of SUQA. Based on their website, SUQA is 75 times more scalable than bitcoin with a speed of 533 Transaction per Second. Using their own X22i POW algo it enables them to achieve their current transaction speed.
Coin Specification
Coin name: SUQA

Ticker : SUQA

Algorithm : X22i

Coin Type: POW

Max. supply: 1,078,740,313+10%dev fee

Block Time: 2 minutes
Max Block Size: 16mb

Max tx/s: 533 tx/s

Difficulty Retarget Algo: DarkGravityV3
Closing Review
SUQA as a cryptocurrency is a far more better compare to other cryptocurrency that is lauching on everyday basis. With Real Active Transparent Development Team together with their growing Mining and Crypto Users Community this is by far one of the unique cryptocurrency project today.
If you are looking for a good cryptocurrency to add in your growing portfolio you should take a look at SUQA, With their timelock features it would be an attractive and greenier way to grow your SUQA Holdings.
That's all about SUQA Project Introductions and i hope you find this useful in understanding the basic overview of the project. If you are looking for technical answer for your technical question please visit their Official SUQA Discord channel and SUQA Staff & Community are always available to handle all project related question from the community.
Important Project Links
Find this useful? Don't forget to Retweet, Share and Like in different social media channels. 
Disclaimer
This is not a investment advice and should not be use as a basis for your investment decision, Always excercise your own due diligence. Thank you for Reading
BTCtalk (xsinx) UID 717573
Share some Love Donate some SUQA SVxtdGhPvsAD8qveLfrmwNbKZovvDdLX3y