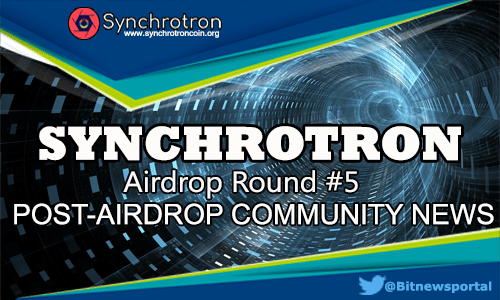 Synchrotron Round #5 Post-Airdrop Community News
Hello GoodMorning Everyone! Welcome again to Bitnewsportal Blog, The home of the best projects and airdrop opportunity. Today we feature the post-airdrop news for round #5 of Synchrotron  Airdrop Project.
Synchrotron Development team sucessfully finished its validation and checking of all airdrop registration for round #5. Today Synchrotron Development will start the distribution of the 300,000 STC Coin Airdrop Allotment for this round #5.
Airdrop Statistics
There are total of 109 Successful Airdrop Participants that will share to 300,000 STC for this round #5
6 Members of the Staff Team receive a total of 21,743.05 STC
5 Members of the Donator and Whales Club receive a total of 18,965.55 STC
14 Members of the Optional Signature Participants receive a total of 42,730 STC
84 Normal Members receive a total of  216,560.4 or 2578.1 STC each
Airdrop Growth
Airdrop Round #5 Participants Grow by 17 New Airdrop participants compare to 92 participants from round #4. This is a good sign that the project is growing stronger everyweek with new people discovering about the airdrop opportunity offered by Synchrotron Coin.
If you missed airdrop round #5 there are still 25 more rounds available in the coming weeks. Always pay attention to the weekly airdrop rules so you wont missed any weekly airdrop rounds.
Airdrop #6 will start this coming monday january 21, 2019. Make sure to check #rules and #faq channel for more detailed information about the weekly airdrop.
The Weekly Discord XP points is now reset by the dev team, You can start chatting now again with your fellow airdrop participants to get more XP points for the next airdrop round #6.
Did you know? Synchrotron Webwallet is now available?
Important Project Links
That's all for today! Stay tuned for tomorrow 2nd weekly community newsletter for Synchrotron Project.  i hope you find this article useful and don't forget to share, like and retweet this article. Thank you for reading…




Disclaimer
This is not a investment advice and should not be use as a basis for your investment decision, Always excercise your own due diligence. Thank you for Reading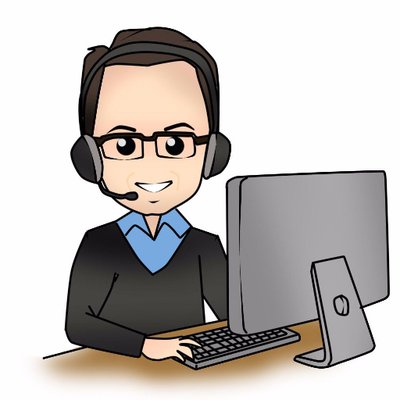 Working @ Home Since 2009 | Freelance Developer HTML CSS and more… | Article Writter