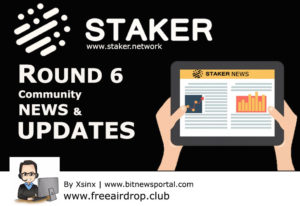 Round 6 Staker Community News & Updates
Hello Everyone! Another new day another new article for staker token project, Today we will focus on what is the latest news and updates about Staker Token project.
This week we have witness tha new beginning of Staker Token, With a brandnew and improve smart contract for staker token. so what can you expect with this development. First, This will fix the high gas transaction fee for both sending and withdrawal transaction. This bug has been discovered by Crex24 and they immedietly inform the staker development team about the said issues.
A new smart contract has been deployed and a token swap has been initiated since yesterday and you will receive a new version of STR tokens on your Ethereum Wallet together with the airdrop amount from round number 5.
New STR Contract Details
Token Contract Address: 0xBAE235823D7255D9D48635cEd4735227244Cd583
Ticker: STR
Decimals: 18
The dev team also add 785,000 from the initial supply to increase the airdrop round from 16 rounds to 40 rounds.
With the new smart contract this will open new doors for many decentralized exchange like IDEX and many more. Don't forget that this is a legit and long term project and the airdrop should not be consider as a weekly salary but instead treat it as a once in a lifetime oppotunity that will change your life in the future.
Moving on, Soon crex24 will resume trading for STR tokens and the dev team will resume the new and improve trading competition for staker tokens.
Help STAKER Token get listed on FATBTC
Follow FAT BTC Twitter Account
Like & Retweet FAT BTC Tweet
Comment Staker twitter handle @StakerToken and add your best comment for staker token project.
Always remember that STR Token is still a brandnew community project and we can expect more community development and news along the way. The whole staker Development team are working very hard to give us a great opportunity and to make a difference in the whole crypto currency market.
That's all for this day and stay tuned for our daily news about STAKER project and Don't Forget to Re-Tweet, Like and share the article in different Social Media Channel a simple task but will have a great impact on STAKER Crypto Awareness Campaign.