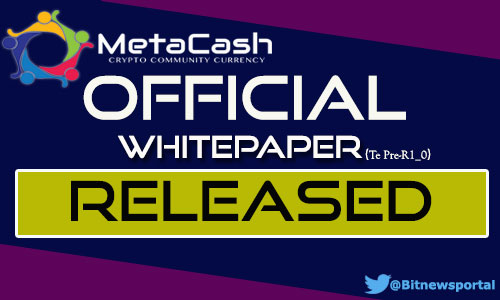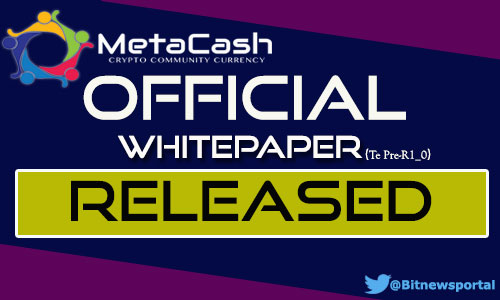 MetaCash Coin Official Whitepaper Released
UPVOTE on STEEMIT | CLAP on MEDIUM  
Hello Everyone! Welcome to another exciting news and updates about MetaCash Coin project. Now i bring you some goodnews and im sure everyone of you are waiting for the whitepaper released of MetaCash Coin.
MetaCash Coin Official Whitepaper is already available for somedays now, We just delayed the publication of this news to give way to the dev team to have it check by other community members. But today the time is ripe to give my detailed review about the official whitepaper of MetaCash Coin project.
First of all this released is just the first version of the whitepaper. Seeing the number indicated on the official released it named as TECH 1.0 PRE-REL On my understanding this is just a pre-release and updates will still be made until the complete whitpaper or the final whitepaper is launch. But this released is a good starting point to see the basic overview of the plans and future products we can expect for the MetaCash Project.
On the first few pages of the Whitepaper, You will see the Airdrop distributions model which everyone of us is aware and fully understand on how it works, They also tackle the whale club membership that explains how they will reward the early investors of the project.
Basically all the information about the project is written on the whitepaper. But expect major updates along the way since this is just a PRE-REL version.
On the last pages, We can see their products and services that they will launch in the future like the Andromeda Wallet and one thing that strike me is the AutoAds, based on the written information it will be a advertising network platform that will server both publisher and advertisers and ofcourse METACASH Coin will be utilized as a payment gateway.
The whitepaper is a 16 pages long and provides a good presentation about the project without any boring technical stuffs that no one will understand. Congrats to the dev team for this another historical moment for their project.
That's all for today! i hope you find this article useful and informative. Don't forget to LIKE, SHARE, Re-TWEET this article in different social media. Lets spread the word about METACASH and together as a community we can make a difference if we work together.
Thank you for Reading….
Important Project Links
Disclaimer
This News Entry is a personal opinion  and not directly from Metacash developer team this is a community initiative news entry, for official news and updates check out #announcement channel via Metacash Discord.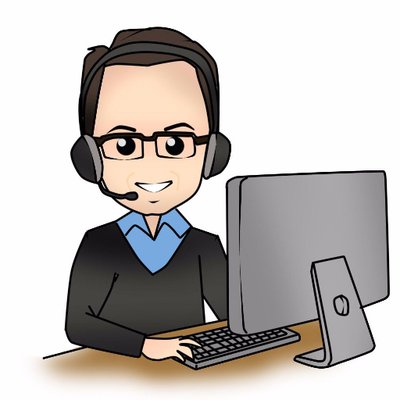 Working @ Home Since 2009 | Freelance Developer HTML CSS and more… | Article Writter