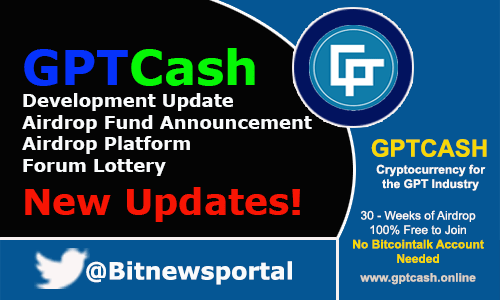 Hello Good Morning everyone! Welcome again to Bitnewsportal Blog, The home of the best projects and airdrop opportunity. Today we will feature the bulks updates that been posted today by GPTCash development team. its series of updates about the project development and other exciting stuffs.
First, GPTCash Dev team posted another development updates about the project. Based on the updates GPTCash Blockexplorer will be ready by February 2, 2019 due to some last minute auditing of the previous swap events. GPTCash also announce wallet re-design that will be available this february.
The official gptcash webwallet will be available soon and gptcash dev team already starts its development. Stay tuned at bitnewsportal as we will be the first to know about the launching of GPTCash webwallet.
Airdrop Fund Allocation undergo major changes and you should take time to read and familiarized yourself with this updates. [Read: Airdrop Allocation Announcement]
Forum Lottery is now in full launch, Earn GPT Points and Buy yourself some Lottery Tickets for a chance to win 100 GPTCash daily.
Here are the Latest Announcement Today
GPTCash Airdrop Fund Allocation
1/29/2019 Project Development Update
Don't forget to join the different bounties that is currently running and available for everyone. Keep collecting GPTCash from bounties and giveaways it could be worth something in the future.
If you Still have some problems with your wallet synchronization read my published guide to help you with process. READ MORE
Important Project Links
GPTCash dev team announce the media partnership of GPTCash and Bitnewsportal, All media related stuffs will be handled by Bitnewsportal.com
That's all for today! i hope you find this article useful and don't forget to share, like and retweet this article. Thank you for reading…
Disclaimer
This is not a investment advice and should not be use as a basis for your investment decision, Always excercise your own due diligence. Thank you for Reading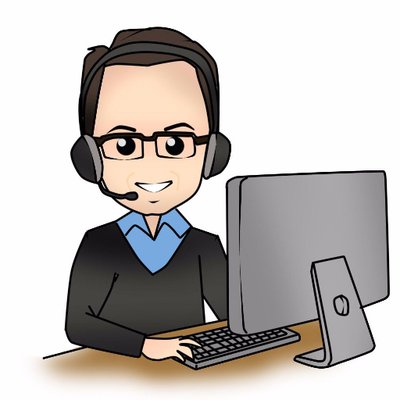 Working @ Home Since 2009 | Freelance Developer HTML CSS and more… | Article Writter